Chief Michael Kallai CLEE Award
Chief Michael Kallai, CLEE Barberton PD, where he spent his entire career, was a friend of the Ohio Association of Chiefs of Police and Law Enforcement Foundation. Chief Kallai passed away suddenly while on vacation with his family during the summer of 2010. Chief Kallai was a graduate of the PELC program, was active in the PELC Alumni Association, and several other committees in law enforcement. Chief Kallai graduated from the CLEE program in 2004 with CLASS IX and was appointed to the CLEE Advisory Board shortly after graduation. He was an active member of the Board, and in the middle of his second term on the CLEE board. Chief Kallai was a strong advocate for the CLEE program and actively worked on the board to strengthen CLEE and to ensure its stature for years to -come through his work to create a sound financial future.
Chief Kallai was also active in his community, serving as a varsity assistant wrestling coach at Wadsworth High School as well as being in integral part of numerous other community activities and events.
Following his sudden death, the CLEE board established the Chief Michael Kallai CLEE Award to be granted each year at graduation to recognize one of the graduates who performed exceptionally well in the CLEE academics as well as has an established record of community involvement, as did Chief Kallai.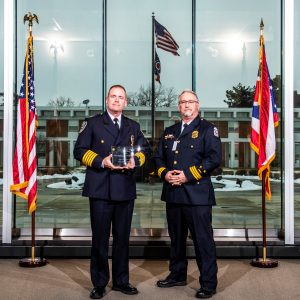 The CLEE XXVI class recipient of the Chief Michael Kallai Award
Chief Edward Kinney, CLEE, Medina Police Department
Chief Kinney began his law enforcement career in 1997 with the Medina Police Department. Starting as a patrol officer, he was promoted to sergeant in 2011 and in 2017 was appointed the Chief of Police. He is currently attending the Kent State University majoring in Criminal Justice.  He is a graduate of the Ohio Public Safety Leadership Academy and the FBI National Academy.
Like Chief Kallai was active in his community, Chief Kinney is also involved in bettering his community. Chief Kinney is on the Board of Directors of the Medina County Children's Center, a non-profit organization with the mission of reducing trauma by providing a pathway to healing for children and families impacted by abuse, neglect, and exploitation.
He is also a board member of Leadership Medina, a non-profit, educational and leadership development organization building a county-wide network of leaders, who learn first-hand about issues facing Medina County and who serve by assisting in addressing those issues through civic programs, leadership courses, and events to connect people at all levels of leadership development.
Chief Michael Kallai CLEE Award Recipients
2022 Chief Edward Kinney, CLEE, Medina PD
2021 Commander David Blake Griffith, Jr., CLEE, Columbus PD
2020 Lieutenant George Lichman, II, CLEE, Rocky River PD and Captain Bryan Snavely, CLEE, Stow PD
2019 Chief John A. Jones, CLEE, Oxford PD
2018  Captain Adam C. Moore, CLEE, Delaware PD
2017  Assistant Chief Deano McNeil, Sr., CLEE, Notre Dame College PD
2016  Chief Richard Bosley, CLEE  Avon PD
2015  Captain Cynthia Brooks, CLEE  Lake Co. Sheriff's Office
2014  Sergeant Agostino L. Micozzi, CLEE Akron PD
2013  Lieutenant Paul J. Scowden, CLEE Westerville PD
2012  Lieutenant Brian C. Uhl, CLEE Springfield Twp. PD
2011  Lieutenant Terence McHugh, CLEE  Cleveland PD
Dr. Ray Miller CLEE Alumi Leadership Award
Dr. Ray A. Miller served as the program director for the Certified Law Enforcement (CLEE) program for ten years (2004-2014).  He passed away in June 2014 after a two-year courageous battle with leukemia.  Dr. Miller exemplified the core values of CLEE throughout his highly accomplished life. He was a strong believer in giving to the community. He was an active member of his church and of The Ohio State University Alumni Association.  His contagious smile and affirming pronouncement that "Life is Good!" touched so many in the law enforcement community and beyond.
The CLEE Advisory Board developed the Dr. Ray A. Miller Alumni Leadership Award to be given annually at the Chiefs Inservice/Annual Conference to an active CLEE graduate who has demonstrated exemplary leadership in his local community and to the law enforcement profession.
Dr. Ray Miller CLEE Alumni Leadership Award Recipients
2022  Chief John Majoy, CLEE Newburgh Heights PD
2021  Chief William Balling, CLEE  Sidney PD
2020 Chief Michael Harnishfeger, CLEE, Ada PD
2019 Chief Brandon Standley, CLEE, Bellefontaine PD
2018  Chief Jeffrey Kruithoff, CLEE, Springboro PD
2017  Chief Keith Torbet, CLEE, Wauseon PD
2016  Chief Paul Denton, CLEE (ret.), The Ohio State University PD
2015  Chief Joseph Morbitzer, CLEE, Westerville PD